At the pulse of the digital economy
Training
and development
Work side by side with experts in data science, data analytics and software engineering. Each member of our teams brings his or her special expertise to the table and expands and intensifies his or her technical and methodological know-how in the course of various projects.
Our Competence Center
We bring this knowledge back into the company and pass it on among co-workers, so that everyone can learn from the skills of the others. Experts in various key areas meet in competence fields and create development plans and further training.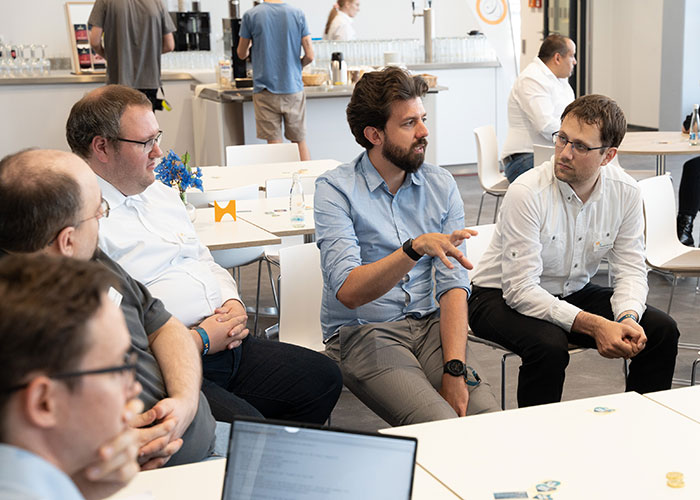 Continuing education
Together with you, we develop a personnel training plan tailored to your needs. As a project employee, you have an annual budget of 12 days for knowledge acquisition. You can participate in training courses or conferences and attend our knowledge circles to further expand your professional, methodological and social skills.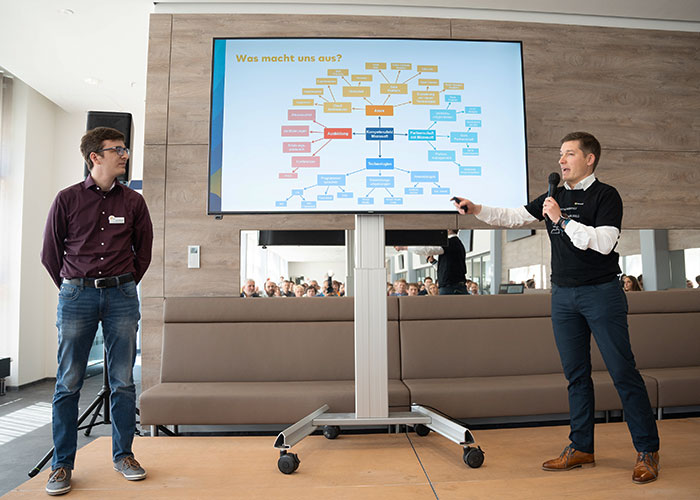 Trainings
Take part in trainings and develop your technical and methodical skills according to your individual professional orientation. The training courses are paid for by HMS, as are the working hours and travel expenses. In addition to further expanding your technical know-how, you can also develop your social skills at in-house training courses. In courses such as "Type-appropriate communication", "Coaching: acquisition, networking, presales", "Rhetoric and moderation", you will learn from external trainers how to successfully master various work situations.
Knowledge Circles
Several times a month, we hold knowledge circles on various topics from the fields of data science, software engineering, project management and project work. We discuss technology trends, demonstrate practical examples, and teach technical know-how. All information is collected centrally in our knowledge database and is accessible to every employee at any time.
Pattern workshop: short presentation and discussion of design patterns
Azure security: web application firewall & Azure Front Door
Scrum versus Kanban: advantages and disadvantages of both systems
Hadoop 101: introduction as big data platform in contrast to Spark
Text Mining with Python spacy
Visualizations with SAS VA, Tableau, JMP, Power BI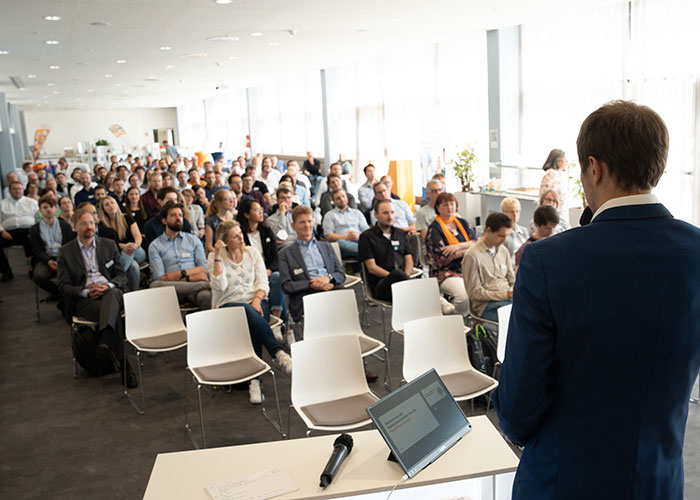 Conferences
We regularly represent HMS at Data Science, Software Engineering and Life Science conferences. Here you have the opportunity not only to attend presentations and workshops, but also to hold them yourself. Among others, we participate in data2day, M3, PHUSE and SAS Forum every year. But it is not only through external conferences that we keep our knowledge up to date; regular internal company conferences also ensure a constant transfer of knowledge and interdepartmental exchange.