Initial situation
Sensor technology, connectivity solutions as well as cloud and edge computing capabilities have made tremendous progress in recent years, allowing for an almost ubiquitous data collection and unlocking new data-driven decision-making processes and improvements. One great example combining all these elements is the highly innovative Mobile Near Infrared (NIR) Spectroscopy Solution by trinamiX (a brand of BASF). With their state-of-the-art proprietary Infrared detectors – which can "see" light in a wavelength of up to 3 μm – trinamiX was planning to develop a 'lab in the pocket', providing their customers with the flexibility to run advanced analyses and take decisions both in real-time and regardless of their location. For this ambitious initiative, the corporate start-up was looking for an agile implementation partner who was both able and capable to help shape and subsequently develop such an innovative digital offering.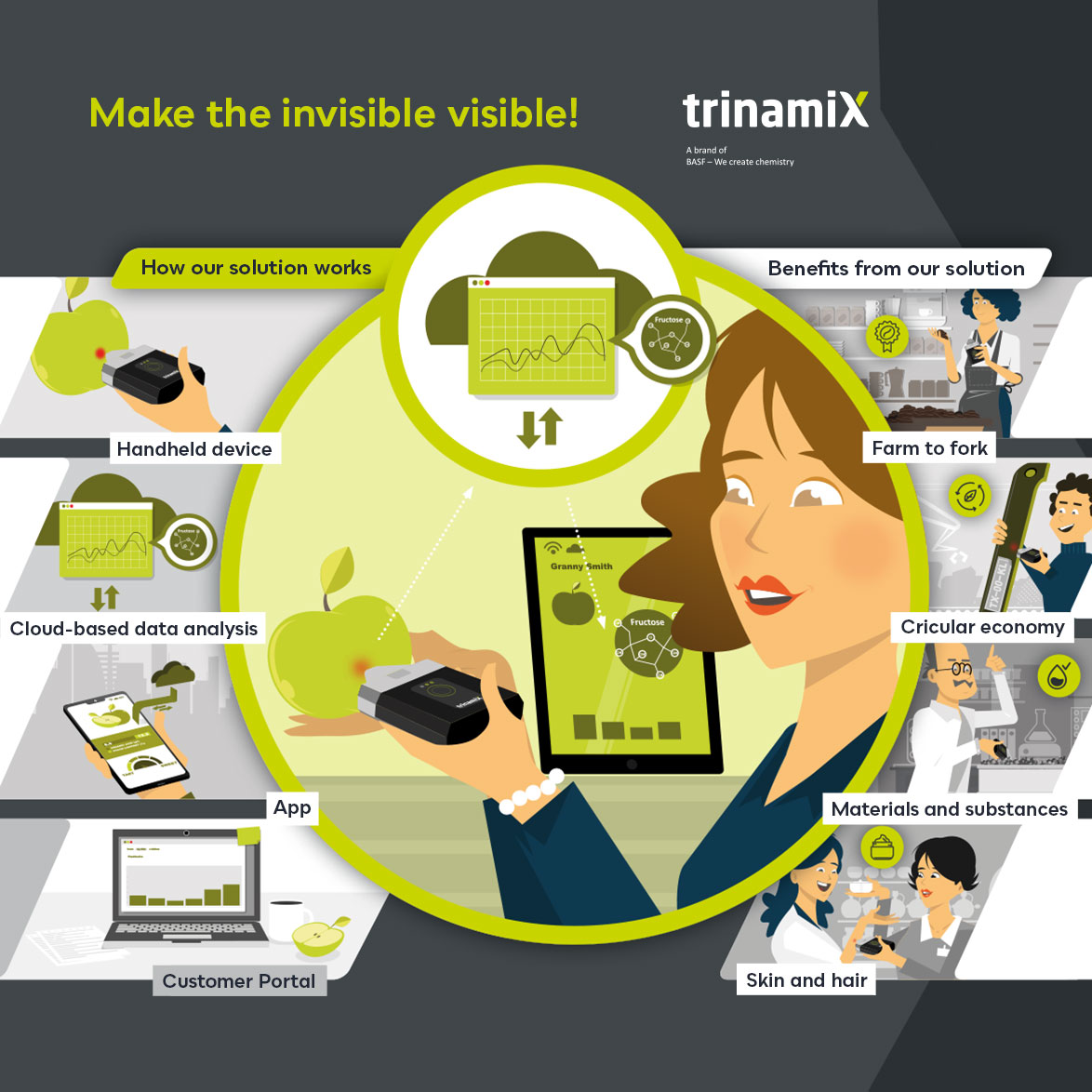 HMS solution
In close collaboration with the trinamiX experts, HMS developed a modular software solution comprising a universal mobile app that connects to the infrared detector device and a cloud backend that handles all necessary data management tasks. In addition, an environment for operationalizing the underlying machine learning models was set up and a user-friendly web-based customer portal was created. The solution automatically transfers the sensor data from the device via the mobile app to the cloud backend. Based on the respective sensor reading, a scoring is then generated, which enables the user to gain real-time insights and take corresponding actions. Additionally, both the specific sensor data and generated predictions can be analyzed in detail via the user portal.
Technologies:
Microsoft Azure (Kubernetes Services, ML Service, SQL & Cosmos DB)
iOS, Android & UWP Apps
.NET (Core), JavaScript (Angular), Python, R, Terraform
agile Development & Azure DevOps
Benefit
Combining the powerful capabilities of the proprietary NIR sensor with an intelligent edge and utilizing the seamless scalability and flexibility of cloud computing allowed trinamiX to advance the field of NIR spectroscopy. The innovative mobile NIR solution already helped to significantly enhance the processes of their customers in areas including plastic recycling, agriculture, cosmetics as well as the chemical industry.
For more information, please visit: https://trinamixsensing.com/nir-spectroscopy/.