SAS & HMS: a strong team
SAS
partnership
As an SAS Gold Consulting Partner, we have certified SAS expertise. We have initiated hundreds of SAS projects and can look back on 30 years of experience in consulting, development and knowledge transfer.
When using SAS software, we are at your side as an independent consultant. From many years of practical use, we know the SAS technologies just as well as all the important related technologies. We know what has already been tried and tested and have preferential access to information from SAS Institutes. Benefit from our experience – for usable data as well as more efficient business intelligence and business analytics processes.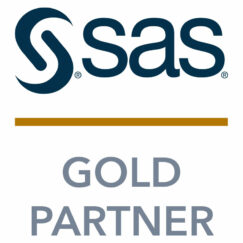 Your benefits
Intelligent data integration
Efficient BI processes
Compliance with regulatory requirements
Maintaining quality standards
Practical operationalisation
In the cloud or on-premises
Competencies to ensure your business success
We bring Dark Data into the light
Your company may have unstructured data lying idle that you would like to use. Because this data can be deployed to improve processes or even establish new business drivers. With intelligent data integration, we bring light into the darkness of your "dark data" inventory. Our solution relies on machine learning methods to convert previously unusable data into a usable data model. In this process, our experts can contribute their specialist knowledge to support the methodology and sharpen the target image.
Future-proof BI systems
We can work with you to make your BI processes more efficient while still meeting all regulatory requirements. We will also ensure that the quality standards of your BI environment are maintained. Working closely together, we will determine where there is a need for BI action in your company. We clarify the current status with regard to lifecycle management, data quality, traceability or data protection. And we quantify the necessary measures so that you can put your BI system on a future-proof footing.
Analytical processes in practical application
How can the analytical processes developed in studies, PoCs or research projects be put into operative and thus value-adding practical use? HMS will help you to establish a uniform procedure. Your individual "Operational Analytics Environment" can be implemented both with existing on-board resources and in the form of a tailor-made platform. The solution enables specialist users to execute the processes created by analysis experts in a user-friendly manner – on a recurring and routine basis. If you are interested in a standardised solution concept that makes use of synergies and is future-proof, we can help you. Just let us know what you need.
Analytics in the cloud
With cloud-based solutions from HMS, service and support costs are minimised while storage space and performance can be flexibly deployed – you only ever pay for the services you use. You can also move all your analytical business processes into the cloud. If you are sceptical about machine learning or data mining in the cloud, then we should exchange ideas about the transfer of existing processes to the cloud landscape. But above all, we should talk about the new horizons that open up when the power of SAS software meets the advantages of a cloud infrastructure.
What you can count on at HMS
Tailor-made development & optimisation
Our experts at HMS will be glad to develop and operate systems for you based on the SAS platform. We will also implement the necessary data integration processes for you on the basis of SAS. Within the framework of SAS, we develop state-of-the-art programmes for you and optimise the performance of existing software. We ensure a seamless transition of your systems during the SAS software version changeover.
Software validation and lifecycle management
With our lifecycle management service, we cover the entire lifecycle of your SAS systems. Following preceding software validation and performance definition, we can take over maintenance, care, change management and technical support on request. This applies to SAS applications created by us or to your existing systems. If required, we can provide on-site support for your application operations.
Customised frontends
We develop user-friendly frontends according to your specific requirements. We attach great importance to comprehensible, extensible and maintainable code – to ensure a long service life.
Training and coaching
Our courses provide you with experienced, technically competent and didactically trained instructors. Six of our trainers alone have been accredited by SAS. Within the framework of our standard courses, we provide you with a sound basic knowledge while taking into account the particularities of your environment. If you would like to deepen or supplement our standard training courses, we can offer you our own in-house programmes. If required, we will work with you to identify the specific topics in which training is required and then provide the necessary instruction in individual coaching sessions.